To help you continue your genealogy research, publisher i30 Media has made available a free genealogy forms starter kit! Download the PDF versions of the free genealogy forms below to print out on your computer and use for your family research! Or, to purchase the full set of forms, see our Genealogy Forms Library.
Free Genealogy Forms PDF Starter Kit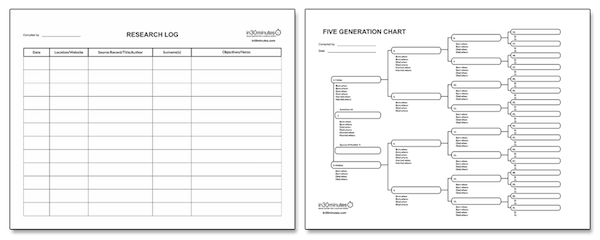 Download i30 Media's free Genealogy Forms Starter Kit, which includes the FIVE GENERATION PEDIGREE CHART and a GENEALOGY RESEARCH LOG. Download the PDFs (valid email required) and print out as many copies as you need! The pedigree chart contains fields for recording birth, death, and marriage information. All names are numbered for easy cross-referencing. The research log can help genealogists track websites, books, and other sources used to research specific ancestors, and can also help avoid redundant searches for information.
Inspired by i30 Media's popular family research guide, Genealogy Basics In 30 Minutes, these free forms can help casual genealogists organize their data and visualize the results! Download the blank forms today!
Genealogy Forms Library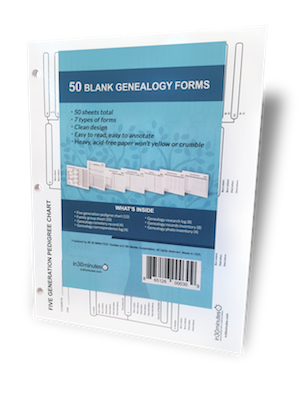 Publisher i30 Media also offers the Genealogy Forms Library, which contains a full range of genealogy forms for family research. It's available for purchase as an electronic download (PDF and Excel) as well as printed blank forms on high-quality paper for long-term record-keeping. The library includes:
FAMILY GROUP SHEET
GENEALOGY RECORDS INVENTORY
CORRESPONDENCE LOG
GENEALOGY PHOTO INVENTORY
MARRIAGE TRACKER
CEMETERY RECORD
FIVE GENERATION PEDIGREE CHART
GENEALOGY RESEARCH LOG
More details are available here.